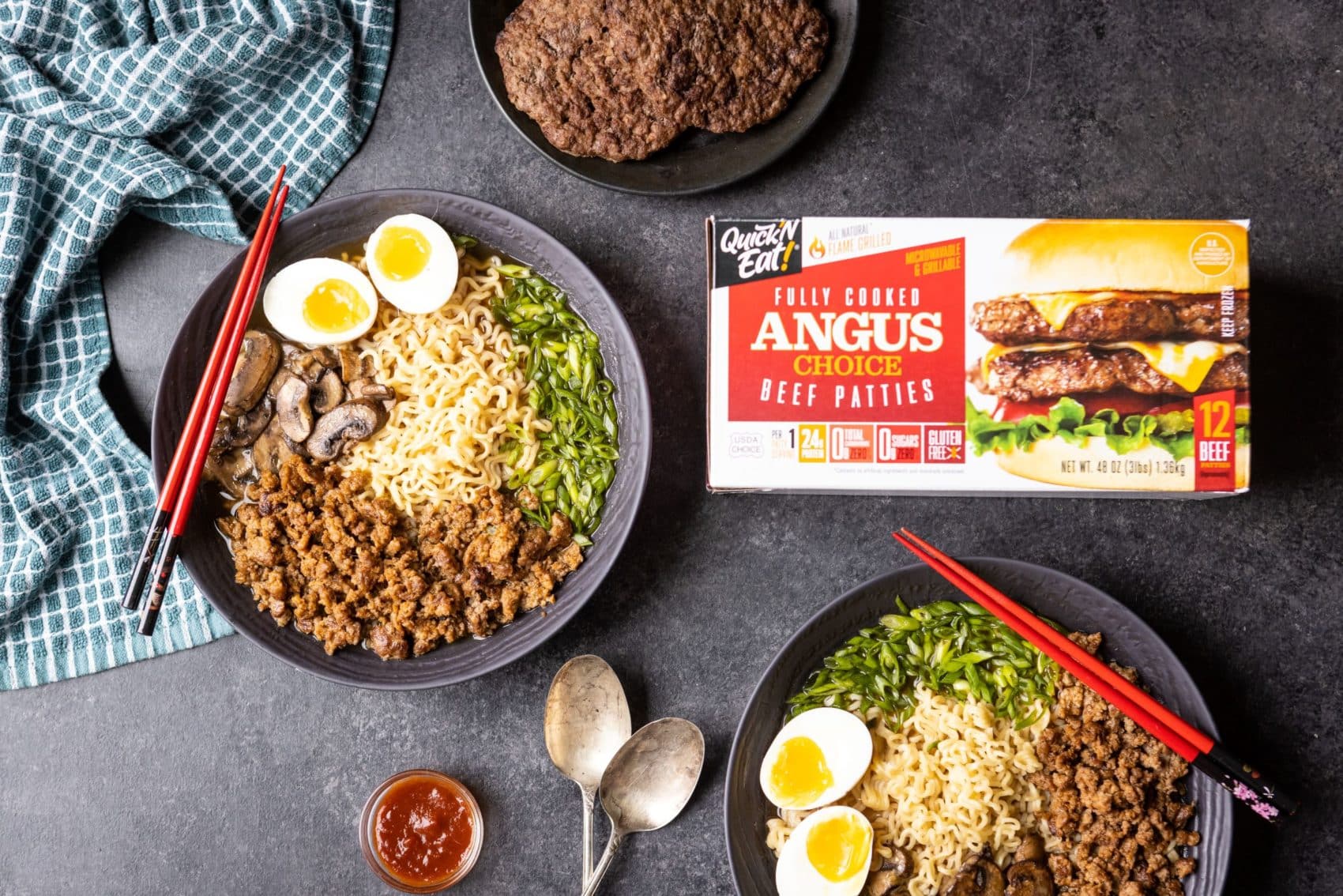 RAMEN
Serving Size: 2 
Prep Time: 20 minutes 
Cook Time: 10 minutes
1 tablespoon sesame oil
2 Quick n' Eat Angus Beef Patties, cooked according to package directions and crumbled
¼ teaspoon garlic powder
¼ teaspoon ginger powder
2-3 teaspoons sriracha
2 eggs
2 packages of instant beef ramen
8 ounces sliced mushrooms, sauteed
1 bunch scallions, thinly sliced
Heat oil in a medium skillet over medium heat. Add crumbled beef patties, garlic + ginger powder, and sriracha.  Cook for 1 minute, stirring constantly.  Remove from heat.
Meanwhile, boil a small pot of water (enough water to cover the eggs). Using a slotted spoon, carefully lower eggs into the water.  Cook for exactly 6 ½ minutes, adjusting heat as needed to maintain a gentle boil.  Transfer eggs to a bowl of ice water and chill until slightly warm.  Gently crack and peel eggs.
Cook instant ramen according to package directions. Assemble ramen with broth, noodles, spicy beef, eggs, mushrooms, and scallions.
Notes
*Soft boiled "ramen eggs" can be cooked, peeled, and refrigerated up to 3 days ahead of time in an airtight container
*Mushrooms are optional and can also be cooked and refrigerated up to 3 days ahead of time