YOUR FREEZER
IS THE NEW
DRIVE-THRU
WE'RE BACK, NOW
AVAILABLE AT SAM'S CLUB!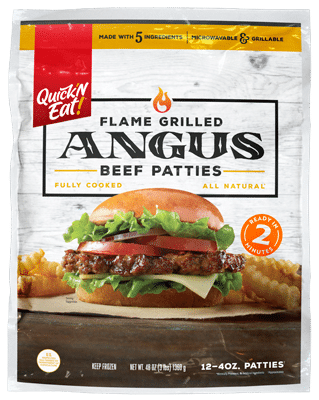 SIMPLY BETTER
PATTIES
The other guys can't compete with how we're serving up our beef!
PROCESSING
Simply delicious patties are what we do best. Our products are minimally processed with just a dash of goodness you can find in your pantry.
GRADING
97% of folks like you told us they think angus is the better beef, and we agree!
INGREDIENTS
The best flavors come from simple recipes. That's why our angus beef patties contain only 5 friendly ingredients.
SODIUM
Unlike other burger brands, we add just a pinch of salt to each patty for more taste with less sodium.
GRILL FLAVOR
Backyard BBQ meets everyday convenience. Nothing beats the taste of a patty grilled over an open flame!
FLAME-GRILLED
INSPIRATION