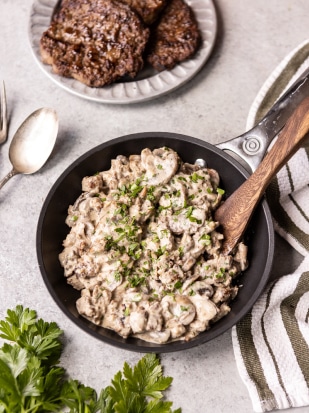 Keto Beef Stroganoff
Serving Size: 4 
Prep Time: 15 minutes 
Cook Time: 15 minutes
2 tablespoons olive oil
2 tablespoons unsalted butter
1 sweet onion, diced
1 pound sliced mushrooms
2 cloves garlic, minced
½ teaspoons dried thyme
4 Quick n' Eat Angus Beef Patties, chopped
2 cups beef stock
2 ounces cream cheese
3/4 cup sour cream
Kosher salt
chopped parsley, for garnish
Heat oil and butter in a large skillet over medium-high heat. Add onions and mushrooms, and season with Kosher salt. Cook, stirring occasionally, until vegetables are softened, about 5-6 minutes. Add garlic, thyme, and chopped burgers and cook for 1 minute, stirring frequently.
Add beef stock and stir all the brown bits off the bottom of the pan. Bring mixture to a simmer and then lower heat to medium-low and cook for about 5 more minutes. Turn off heat and stir in cream cheese and sour cream. Stir until fully incorporated.
Serve beef stroganoff over zucchini noodles or mashed cauliflower. Top with chopped parsley.