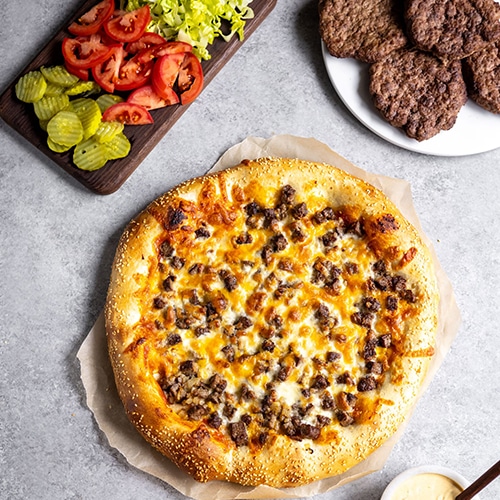 CHEESEBURGER PIZZA
Serving Size: 4
Prep Time: 20 minutes
Cook Time: 15 minutes
1 store bought pizza dough
1 egg
1 tbl water
2 tbl sesame seeds
1 tbl olive oil
1 small yellow onion, finely chopped
3 Quick n' Eat Angus Beef Patties, cooked according to package directions and chopped
⅓ cup ketchup
1 tbl yellow mustard
2 cups shredded colby Jack cheese
Special Sauce (recipe below)
1 1/2 cups shredded iceberg lettuce
1/2 cup pickle slices
2 plum tomatoes
Special Sauce Ingredients
1/2 cup mayo
1/2 tbl yellow mustard
1 tsp ketchup
4 tsp sweet pickle relish
1 tsp sugar
1 teaspoon white wine vinegar
½ teaspoon paprika
½ tsp onion powder
¼ tsp garlic powder
Salt
Place a baking stone or inverted large baking sheet on the lowest rack of the oven and preheat to 450°F.
Heat oil in a medium skillet over medium heat and cook onion until softened, stirring occasionally, about 4-5 minutes.  Stir in cooked chopped burger pieces and cook for 30 seconds.
Dust a pizza peel with flour and stretch the pizza dough into a thin circle.
Whisk together egg with water in a small bowl.  Brush egg wash around the crust of the pizza and sprinkle it with sesame seeds.
Combine ketchup and mustard in a small bowl.  Spoon a thin layer of sauce evenly on pizza dough, then sprinkle with 3/4 cup shredded cheese.  Add burger mixture evenly over pizza, then top with remaining cheese.
Gently slide pizza onto baking stone and cook for 15-20 minutes, or until the crust is golden brown and just cooked through.  Remove from the oven and top with lettuce, tomato, pickles, and sauce.
For the Special Sauce
Combine all ingredients in a small mixing bowl.  Season with salt.