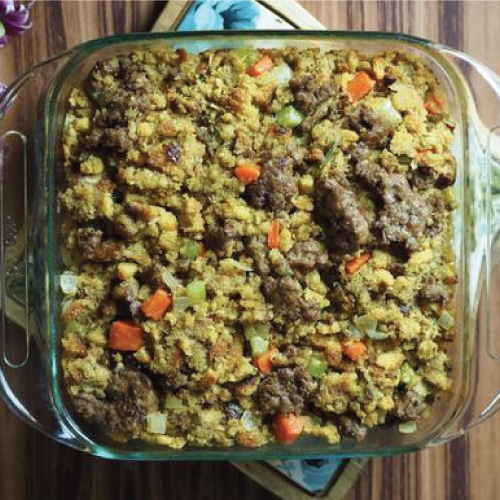 ANGUS BURGER BAKED STUFFING
Serving Size: 6-8
4 Quick 'N Eat Angus Burger patties, thawed
1 cup diced onion
½ cup diced carrot
½ cup diced celery
1 cup beef broth
1 tablespoon kosher salt
2 eggs
1 cup heavy whipping cream
1 tablespoon ground sage
12 ounces seasoned stuffing mix (cornbread or classic bread)
Preheat oven at 350º Prepare an 8"x8" baking dish with non-stick vegetable spray, set aside.
Cook onions, carrots and celery in a well-oiled skillet, for 2-3 minutes, over medium heat. Crumble the burger patties into the skillet and pour in the broth.
Season with salt and bring to a low boil, for about 5 minutes; set aside.
Whisk the eggs in a mixing bowl with cream and sage. Fold in the stuffing mix until coated well. Pour the mixture into the prepared baking dish.
Pour the hot burger mix over the stuffing mix and combine well, until the liquid is soaked up.
Bake in the oven for 20 minutes covered, uncover and continue cooking for 10 minutes.