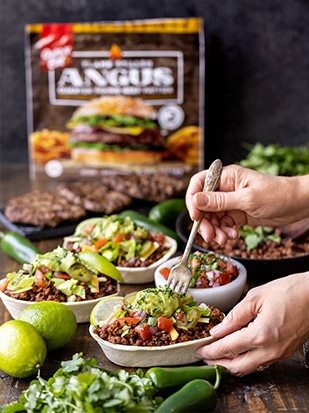 Spicy Beef Taco Bowls
Serving Size: 4 
Prep Time: 20 minutes 
Cook Time: 10 minutes
4 Quick n' Eat Angus Beef Patties, cooked according to package directions
1 tablespoon vegetable oil
Spicy Taco Seasoning (recipe below)
4 Soft Flour Tortilla Taco Boats
1 cup chopped romaine lettuce
1 cup shredded cheddar cheese
Pico de Gallo (recipe below)
Guacamole
Pickled Jalapeños
Spicy Taco Seasoning
1 tablespoon ancho chili powder
1 teaspoon ground cumin
½ teaspoon Kosher salt
½ teaspoon cayenne pepper
½ red pepper flakes
½ teaspoon paprika
½ teaspoon garlic powder
½ teaspoon pepper
¼ teaspoon onion powder
¼ teaspoon dried oregano
Pico de Gallo
3 plum tomatoes, seeded and chopped
1/2 medium red onion, chopped
1 jalapeño, seeded and chopped
1 lime, juiced
Cilantro, finely chopped
Kosher salt
Crumble cooked burgers with your fingers into a medium skillet over medium heat with the oil. Add spicy taco seasoning and 2 tablespoons of water. Stir, cooking for at least two-three minutes to allow flavors to meld. If the pan gets too dry, add another tablespoon of water.
Meanwhile, warm taco boats in the oven or microwave. Fill boats with spicy beef, shredded lettuce + cheese, pico de gallo, guacamole, and pickled jalapeños.
Spicy Taco Seasoning
Combine all ingredients in a small bowl.
Pico de Gallo
Soak chopped red onion in a small bowl of ice water for 10 minutes. This will remove the strong "bite" from the onions and mellow them out a bit.
Combine tomatoes, onion, and jalapeño in a small mixing bowl. Add the juice of half the lime and a handful of minced cilantro. Season with Kosher salt and stir. Taste and add the juice of the other half of lime if desired. Let sit for at least 15 minutes to allow flavors to meld.