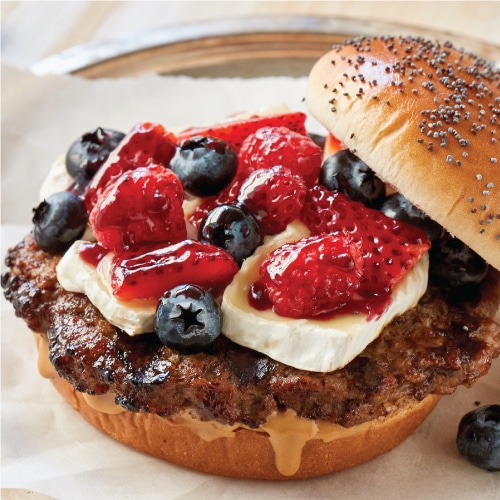 PEANUT BUTTER BURGER WITH BRIE & FRESH BERRY COMPOTE
Makes 4 burgers
2 tablespoons blackberry jelly
1 teaspoon lemon juice
1 cup mixed berries, such as raspberries, blueberries, and sliced strawberries
4 'Quick 'N Eat' 3-ounce burger patties
4 poppy seed hamburger buns
1/2 cup peanut butter
8 slices brie cheese
In a medium bowl combine jelly and lemon juice. Microwave until hot, about 30 seconds.
Add fresh berries to the hot jam mixture and set aside.
Cook burger patties according to package instructions.
Spread 1 tablespoon peanut butter onto each bun bottom. Top with hot burger patty. Immediately add 2 slices brie on top of each patty.
Divide berry mixture evenly among the 4 burgers. Top with poppy seed bun.