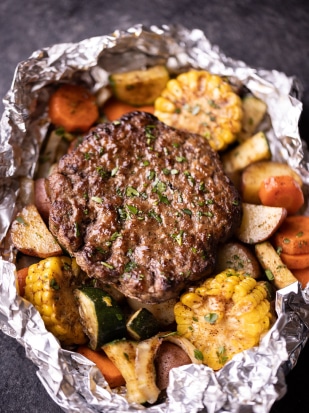 Meat & Potato Packets
Serving Size: 2 
Prep Time: 10 minutes 
Cook Time: 30 minutes
2 Quick n' Eat Beef Patties
2 carrots carrots, peeled and sliced into ¼" coins
2 mini frozen corn on the cobs, cut into thirds
1 small onion, halved and sliced
2 zucchini, halved and cut into ½" pieces
6 mini red potatoes, quartered (about ½" pieces)
1/4 cup olive oil
Kosher salt
3 tablespoons BBQ rub, Italian seasoning, or Montreal seasoning
In a large bowl, toss together vegetables, oil, and seasoning. Season with Kosher salt.
Divide vegetables in the center of each piece of 12"x18" piece of foil. Top with beef patty. Seal foil packets well and place in a preheated 400° air fryer for 30 minutes. If both can't fit together, cook individually. During the last 5 minutes (or whenever the air fryer alerts you to turn food), flip the packet over with kitchen tongs.
If you don't have an air fryer, you can cook in a preheated 400°F oven or on a grill for 30-45 minutes until vegetables are fork tender.