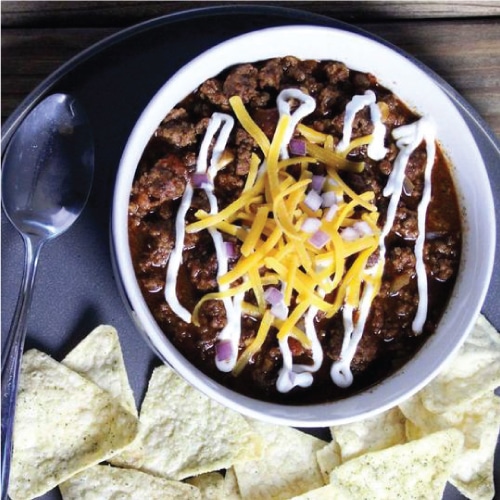 HAMBURGER CHILI
Serving Size: 2
4 Angus Hamburger Patties
1 tablespoon vegetable oil
1/3 cup diced red onion
1 tablespoon minced garlic
2 cups diced tomatoes
1 cup unsalted chicken stock
1 packet chili seasoning
Heat hamburgers according to package instructions, crumble.
Heat oil in a sauce pot over medium heat.
Cook onions with garlic and tomatoes for 5 minutes. Stir in the hamburger, cover and cook for 10 minutes.
Stir in the chicken stock and seasoning, cover and continue cooking for 10 minutes.
Uncover and finish cooking for 5 minutes until the chili has thickened.
Serve with your favorite chili garnishes like, sour cream, cheese, onions and chips.