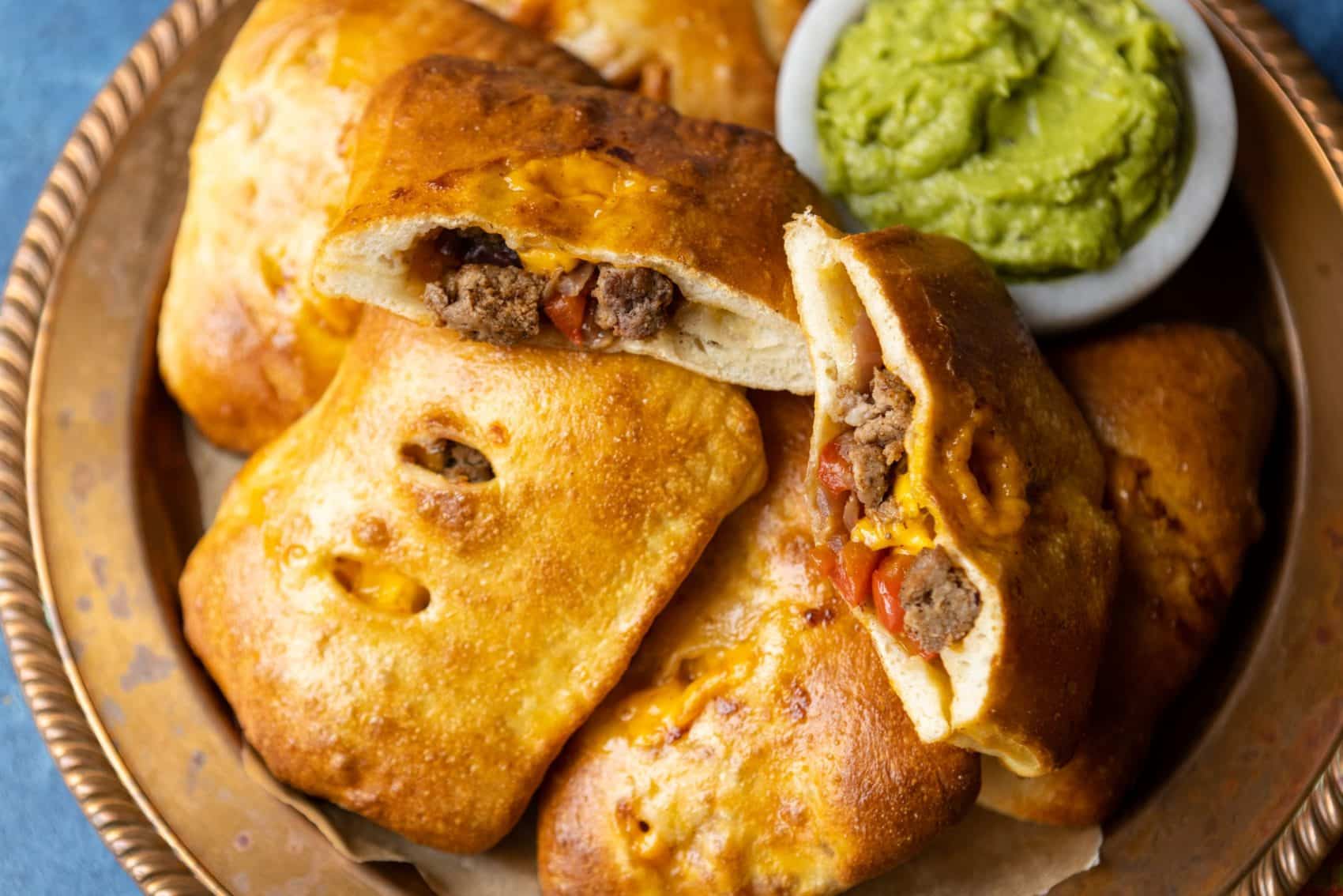 FAJITA HOT POCKETS
Serving Size: 6 Hot Pockets 
Prep Time: 10 minutes 
Cook Time: 30 minutes
1 tablespoon olive oil
1 red bell pepper, sliced
1 red onion, sliced
Kosher salt
2 Quick n' Eat Angus Beef Patties, cooked according to package directions and diced
½ teaspoon garlic powder
½ teaspoon chili powder
¼ teaspoon cumin
8 ounces cheddar cheese, shredded
1 (28-32 ounce) store bought pizza dough, room temperature
1 egg
1 teaspoon water
guacamole and salsa, for serving
Preheat oven to 450°F. Meanwhile, heat 1 tablespoon oil in a medium nonstick skillet over medium heat.  Add pepper and onion, season with Kosher salt, and cook, stirring occasionally, until tender, about 5-6 minutes.  Stir in diced beef patties, garlic powder, chili powder, and cumin and cook for 1 minute.
Divide dough into 8 equal portions. Roll out each piece of dough into a thin long rectangle, flouring as needed to avoid sticking.  Add a sprinkle of cheese and a spoonful of the fajita burger mixture on one half of the pizza dough, leaving a small gap around the edge.  Fold dough over and crimp closed with a fork.  Cut two vent holes in the top of each calzone to allow for steam to escape during baking (this is easiest done with kitchen shears).
Whisk egg and water in a small dish and brush the top of each calzone with the egg wash. Place hot pockets on a parchment paper lined baking tray.  Bake in oven for about 18-20 minutes, until golden brown and cooked through.
Notes
*buying a pizza dough from a local pizzeria is an excellent option!
*if the dough keeps recoiling while trying to roll out, let sit at room temperature for another 5-10
minutes.
*hot pockets can be baked, cooled, and frozen in an airtight container for quick and easy meals!  Just reheat from frozen in a 350°F oven until crisp and heated through.