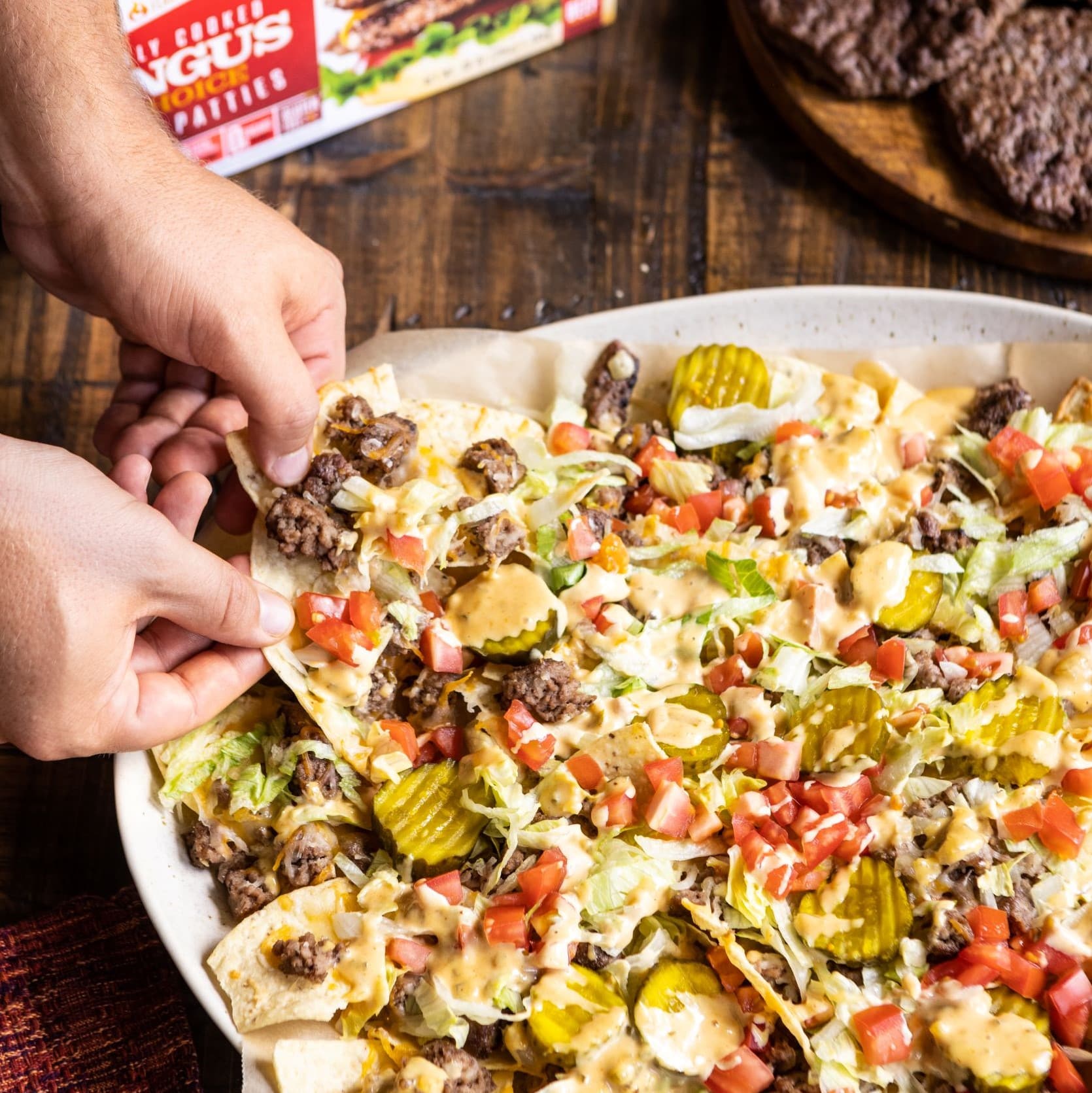 CHEESEBURGER NACHOS
Serving Size: 4 
Prep Time: 15 minutes 
Cook Time: 15 minutes
1 standard bag tortilla chips
1 tbl olive oil
1 small yellow onion, finely chopped
3 Quick n' Eat Angus Beef Patties, cooked according to package directions and chopped
2 cups shredded colby Jack cheese
Special Sauce (recipe below)
1 1/2 cups shredded iceberg lettuce
1/2 cup pickle slices
2 plum tomatoes
Special Sauce Ingredients
1/2 cup mayo
1/2 tbl yellow mustard
1 tsp ketchup
4 tsp sweet pickle relish
1 tsp sugar
1 teaspoon white wine vinegar
½ teaspoon paprika
½ tsp onion powder
¼ tsp garlic powder
Salt
Preheat oven to 350°F. Meanwhile, heat oil in a medium skillet over medium heat and cook onion until softened, stirring occasionally, about 4-5 minutes.  Stir in cooked chopped burger pieces and cook for 30 seconds.
Arrange tortilla chips in an even layer on a large baking tray. Add burger mixture evenly over chips, then sprinkle with cheese.  Bake for 5-10 minutes, or until the cheese is thoroughly melted.  Remove from the oven and top with lettuce, tomato, pickles, and special sauce.
For Special Sauce
Combine all ingredients in a small mixing bowl. Season with salt.