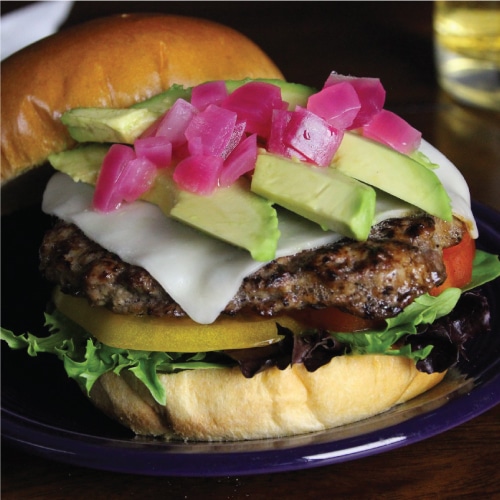 CALIFORNIA-STYLE AVOCADO BURGER
Serving Size: 4
4 Quick'n Eat Fully Cooked Angus Choice Beef Patties
¼ cup pickled red onion, see recipe below
4 slices Havarti cheese
4 burger buns
2 cups spring mix lettuce
2 heirloom tomatoes, sliced
1 avocado, sliced
Pickled Red Onion
½ cup diced red onion
2 tablespoons sugar
2 tablespoons white vinegar
2 tablespoons water
Combine all the ingredients for the pickled red onion in a microwave-safe bowl. Microwave for 1 minute, set aside. Drain from liquid before use.
Heat the beef patties according to microwave package instructions and place one piece of cheese on each patty.
Divide the remaining ingredients between the four burger buns. Layering with lettuce, tomato, burger with cheese, avocado and pickled red onion.
Chef's Note: Use your favorite burger bun from your local grocery or use a gluten-free version of roll or bun to accompany this gluten-free angus burger.