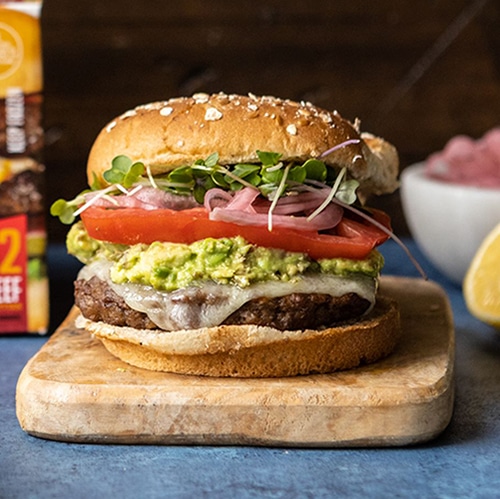 CALIFORNIA BURGER
Serving Size: 4 Burgers
Prep Time: 10 minutes (plus marinating time for pickled onions)
Cook Time: 20 minutes
4 Quick N' Eat Burgers
4 slices aged white cheddar cheese
4 multigrain burger buns
1 avocado, mashed
1 cup microgreens
1 large heirloom tomato, sliced
Lemon Aioli (recipe below)
Pickled Onions (recipe below)
Lemon Aioli Ingredients
1 cup mayonnaise
1 lemon, zested and juiced
1 teaspoon garlic powder
Kosher salt
Freshly ground black pepper
Pickled Onions Ingredients
1 medium red onion, thinly sliced
1/2 cup apple cider vinegar
1 cup warm water
1 tablespoon sugar
1 1/2 teaspoons Kosher salt
Cook burgers according to package directions.  During the last 2 minutes of cooking, add cheese and allow to fully melt.
Add one burger to each bun, and top with mashed avocado, microgreens, tomato, pickled onions, and lemon aioli.
For the Lemon Aioli
In a small mixing bowl, combine mayonnaise, lemon zest, lemon juice, and garlic powder.  Season with Kosher salt and pepper
For the Pickled Onions
Combine vinegar, water, sugar, and salt in a medium bowl. Whisk together until sugar and salt is fully dissolved.
Place onion in a mason jar or bowl. Pour vinegar mixture over the onions and let sit at room temperature for at least 1 hour, preferably in a refrigerator for at least 1 day. Pickled onions will last for a few weeks stored in the refrigerator.