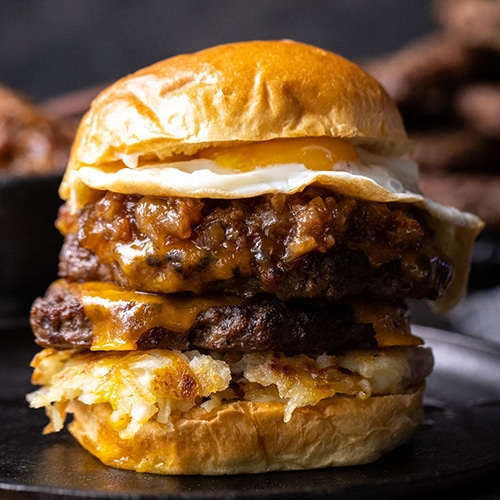 BRUNCH BURGER
Serving Size: 4 Burgers
Prep Time: 20 minutes (plus marinating time for pickled onions)
Cook Time: 40 minutes
4 Quick N' Eat Burgers (or 8 for double patty burgers!)
4 slices cheddar or American cheese
4 burger buns
4 fried eggs
Bacon Jam (recipe below)
3 cups frozen shredded hash browns
3 tablespoons canola or vegetable oil, divided
Kosher salt
Bacon Jam Ingredients
1 (16 ounce) package bacon, roughly chopped
1 sweet onion, thinly sliced
1 red onion, thinly sliced
3 cloves garlic, minced
1/2 cup lightly packed brown sugar
1 cup apple cider or apple juice
1/4 cup apple cider vinegar
Kosher salt
Cook burgers according to package directions.  During the last 2 minutes of cooking, add cheese and allow to fully melt.
Meanwhile, heat 2 tablespoons of oil in a medium nonstick skillet.  Add shredded hash browns in an even layer and pat down.  Drizzle remaining oil over top and season with Kosher salt.  Cook until the bottom is golden, about 5 minutes.  Flip and cook until the bottom is golden and crispy, another 3-5 minutes.
Divide hashbrowns into 4 "patties".  Add each one to a burger bun, then a cheeseburger patty.  Top with bacon jam and a fried egg.
For the Bacon Jam
Cook bacon in a medium skillet over medium heat until golden brown and crisp. Remove bacon and drain on paper towels. Remove all but 2 tablespoons of the bacon fat drippings from the skillet.
Reduce heat to medium/medium-low. Cook onions, stirring occasionally, for about 6-7 minutes or until tender. Add garlic and cook, stirring constantly, for 1 minute. Add brown sugar, apple cider/juice, apple cider vinegar, and season with Kosher salt. Bring the bacon jam mixture to a boil, stirring occasionally, and then reduce heat to low. Return the bacon to the skillet and simmer all together until onions are very soft and the mixture has thickened to the consistency of jam.
Let bacon jam mixture cool and then pulse in food processor or with immersion blender to desired consistency.  Leftovers can be refrigerated for several days or frozen.