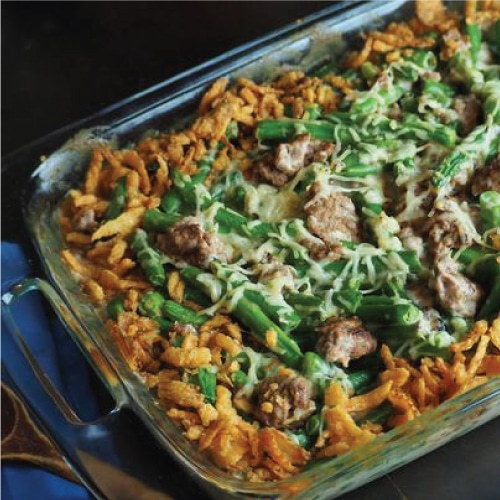 BAKED ANGUS BURGER WITH GREEN BEANS
Serving Size: 6-8
4 patties Quick 'N Eat Angus Burger, thawed
2 lbs. fresh Green Beans
2 tablespoon vegetable oil
1 cup diced Yellow Onion
2 (10.5oz) cans condensed Cream of Mushroom soup
½ cup beef broth
1 tablespoon Kosher salt
½ cup shredded Parmesan Cheese
1 cup Fried Onions
Preheat oven at 350º
Prepare the green beans by cutting in half and blanching in boiling water.
Drain and cool under cold water or ice bath. Set aside to dry over clean paper towels.
Heat the oil in the same sauce pot over medium heat. Cook the diced onions with crumbled burger meat for 2-3 minutes. Stir in the cream of mushroom soup, broth and salt until well incorporated.
Place the green beans in a 13"x9" baking dish and pour the burger mixture over the green beans and mix together. Spread cheese on top and bake for 20 minutes.
Top the casserole with fried onions and heat for an additional 5 minutes.