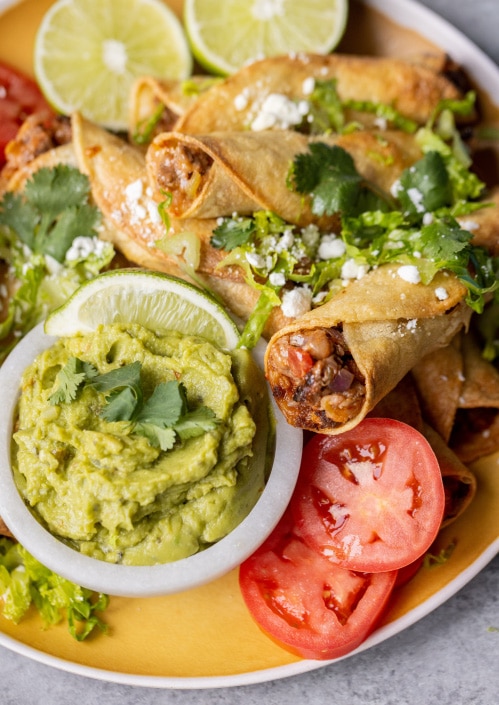 Air Fryer Beef Taquitos
Serving Size: 12 taquitos 
Prep Time: 15 minutes 
Cook Time: 20 minutes
1 tablespoon vegetable oil
1/2 small red onion, chopped
1 clove garlic, minced
2 tablespoons chopped canned green chiles
1/4 cup salsa
2 Quick N' Eat Beef Patties, cooked and crumbled
2/3 cup shredded Mexican cheese blend
Kosher salt
12 corn tortillas
Avocado oil cooking spray
For serving, if desired:
Guacamole
Sour Cream
Salsa
Queso Fresco
Lime Wedges
Cilantro
Heat oil in a medium skillet over medium heat. Add onion and cook, stirring occasionally, until softened, about 4 minutes. Add garlic and cook, stirring frequently, about 1 minute. Add green chiles and salsa and stir to combine. Add the beef crumbles and cheese and heat until cheese had melted and the entire mixture is warmed through, about 2-3 minutes. Season with Kosher salt.
Heat tortillas in microwave until soft and pliable. Divide beef mixture between the tortillas by placing a couple of spoonfuls down the center of each tortilla. Fold over and roll into taquitos, securing each one with a toothpick. Spray generously with avocado oil cooking spray.
Meanwhile, preheat an air fryer to 375°F. Place taquitos into the air fryer basket, in batches if necessary to avoid them touching. Cook until golden brown and crispy, about 6 minutes. Turn over, spray with more avocado oil, and cook for an additional 4 minutes.
Serve with guacamole, sour cream, salsa, lime wedges, queso fresco, and cilantro as desired.